Today is the kick-off for
Who's That Girl
! Now if you've been following my blog you will have noticed that my posts and my scrapbook pages have been few and far between the last few months. I am looking forward to using these challenges to get myself back into the scrapping groove and hope that you will join us in exploring who YOU are!
For those who don't know me I am a forty-something wife, mother of two adult children and one high-school senior, and grandmother of one with a second coming in the spring. I have been scrapbooking for roughly ten years but, probably because my kids were older when I started, my albums have never been about recording every event in their lives but rather about telling MY stories which, of course, they are an important part of but not the main focus. I want my grandchildren to be able to look at my albums some day and learn something about who I was.
Okay, so you want to have some fun and win prizes? Get to know the Who's That Girl Design Team… We would LOVE to get to know YOU!
START THE HOP HERE @
THE WHO'S THAT GIRL CHALLENGE BLOG
, then hop along to each team member's blog to see their wonderful takes on our VERY FIRST CHALLENGE!
Our first challenge for 2010 is One Word. But not just any word, we want to know the word that describes who you are as a person. For this challenge pick a word that tells who you are and what you are all about! (Please share your finished pages at the Who's That Girl
Flikr
group.)
Here is my layout for this challenge! I have a lot of hobbies but they all boil down to allowing me to be CREATIVE!
1.One lucky person who leaves a comment on all of our blogs in the DT blog hop will win this collection of goodies: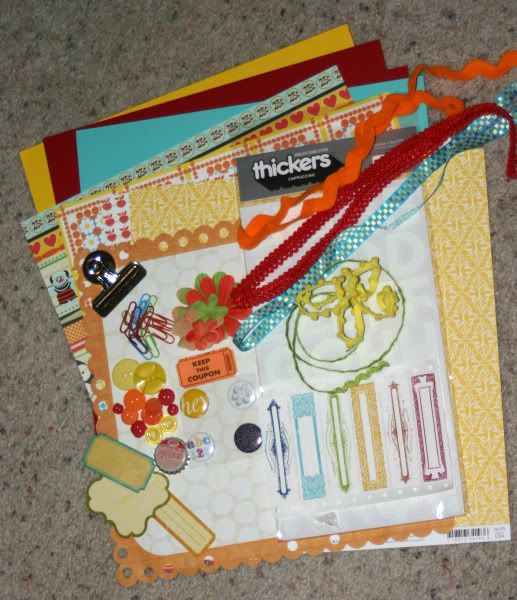 2.One person who does the challenge and posts in the
Flickr
group will win this collection of goodies:
Next, hop on over and check out
Carla's blog
. ENJOY!
Here is the order in case you get lost along the way:
Who's That Girl
Jessica*Bree
Kim
Mara
Cindy
Carla
Diana
Sara
Aimee